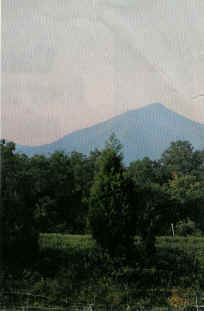 Colonel J. J. Holland plunged his post hole digger into a mound where his metal detector registered ten and brought up a scoop of dusty earth containing several lumps of coal.
At 70, he had been warned by his doctor against digging because of a serious heart ailment, but his obsession with the treasure he believes lies six feet under the dirt beside the railroad tracks somewhere in Virginia overrides all common sense.
Since 1964, when he first learned of Thomas Jefferson
Beale, the 2,921 pounds of gold, the 5,100 pounds of silver and some $200,000 worth of jewels, he has clocked up more than 150,000 miles driving to the

foothills of the Blue Ridge Mountains near Roanoke, Virginia, to dig.

At home in Lillian, Alabama, he works most nights from 10 to 2 on the ciphers relating to the treasure. This time he is convinced he has broken the first of the three codes" once and for all."

"What we need now is a backhoe," he says with obvious frustration. "Then we can dig down and find the treasure and solve this Beale thing once and for all."

For more than 130 years people like Colonel Holland have been trying to find the" Beale millions.

Wireless Phones - Click Here for exclusive rebates and great offers!